ELECTRICAL CERT or £30,000 fine!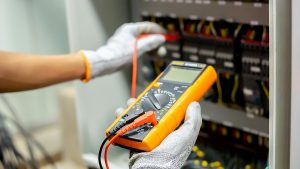 In July 2020 last year it became mandatory for landlords to have an EICR (electrical installation condition report) certificate by a qualified electrician on their rental property and for this to be checked every five years. This was for all new and renewing tenancy agreements.
From April 2021 all remaining rental properties, those with tenants who were in a rollover tenancy, must have the EICR certificate in place. Failure to have the certificate could mean a fine of up to £30,000.
Landlords, if your tenant is in a rollover, you need to be completely aware of what type of tenancy agreement you have in place. If your tenancy is a statutory periodic tenancy then you should already have the EICR certificate in place as each month is considered a renewing tenancy. If your tenancy is a contractual periodic tenancy, then you must have one in place by the 1st April 2021. Please do double check your tenancy and ask your agent which type of tenancy they using.
If you are not sure, then please send me a copy of your current tenancy agreement and I can check it for you for free  sharon@moveon.biz , better safe than sorry!
Keep safe
Sharon
Remember a good letting agent is worth every penny when you know you can sleep peacefully at night.